From a construction prospective, the San Antonio and Texas landscape presents unique challenges. Primarily, the different weather conditions each season brings has a huge impact on soil moisture content. For example, some summers may bring rain while others may be bone dry. Rain causes clay soil to expand creating pressure against a home foundation. When this moisture evaporates, the soil contracts, becomes less supportive, and the foundation can shift. If foundation issues, such as cracks, are present, it is best to consult with a foundation repair specialists. Outlined below are 4 advanced foundation repair techniques.
Advanced foundation repair techniques that not only fill the cracks and level the structure, but also address underlying causal factors.
Concrete and Steel Piers
Concrete piers are used as cost-effective foundation supports that are placed under a home. They are especially effective for combating the San Antonio clay soil conditions and can be drilled or poured into the earth around / under a structure. Pressure around 10,000 psi is used to drill the piers around 10-15 feet below the foundation. Piers can also be created by pouring concrete directly into manufactured holes around the foundation. Both poured and drilled piers are often reinforced with rebar and it can take 1-2 weeks before the piers have set fully. Steel Piers, which can be drilled much further into the ground, are used in more advanced foundation repair. San Antonio clay soil is notorious for expanding and contracting frequently, and therefore, it's sometimes necessary to use a stronger material like steel. Like concrete piers, these are drilled into the earth, but can reach incredible depths of 60 or 70 feet.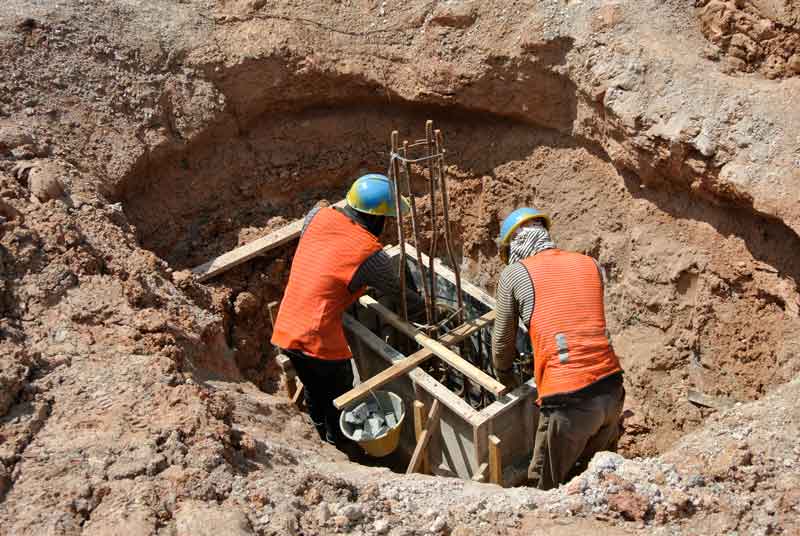 Helical Pilings
Helical Pilings, also referred to as screw piles, are another technique used for advanced foundation repair in San Antonio. They are drilled into the ground much like a metal screw through a block of wood. The benefit of helical pilings is that installation requires less effort, and therefore, are sometimes more cost effective. Helical pilings are generally recommended for slab or pier and beam foundations that are not heavy. Depending on the foundation strength and depth, helical pilings are worth considering, but should also be avoided in some circumstances. Helical pilings can be extremely effective for house and foundation leveling.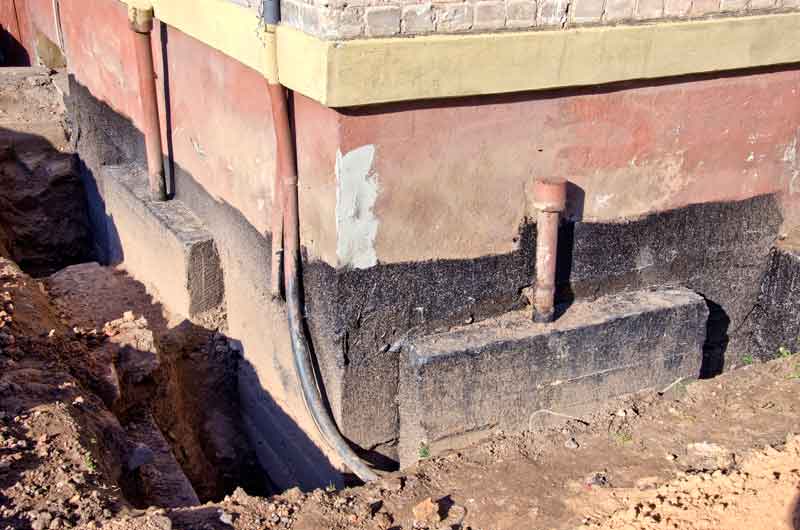 Soil Injection
Soil injection, or injection stabilization, chemically alters the soil using potassium ions. For advanced foundation repair in San Antonio, this technique is sometimes required due to the expansiveness of the clay soil. Penetrating the clay with a potassium based chemical solution results in a more stable soil zone. Therefore, any future shifting and heaving of the foundations is drastically reduced or non-existent. Soil injection is a cost effective solution to digging up and replacing clay soil during construction. Since it permanently reduces soil swelling, it is an extremely effective advanced foundation repair strategy when other means are ineffective.
Mudjacking
In the foundation repair industry, concrete is often referred to as mud. Therefore, mudjacking or slab-jacking is the process of raising and repairing a slab foundation by pressure injecting concrete underneath a foundation. Usually, a lower strength concrete is used to facilitate this advanced foundation repair technique. San Antonio homes with foundation problems are not often compatible with this strategy, but it can be useful when conditions are appropriate. For homes where mudjacking is not a good option, a variety of other advanced foundation repair methods are utilized to effectively repair the foundation.
Advanced Foundation Repair and fast estimates
Advanced foundation techniques afford customers confidence in their foundation repairs, regardless if their property rests on a pier and beam or slab foundation. If you have noticed key warning signs of foundation damage around your home or business, get in touch with a foundation repair expert to schedule a free foundation repair estimate. We will diagnose any foundation problem and provide cost-effective solutions to manage your foundation repairs.